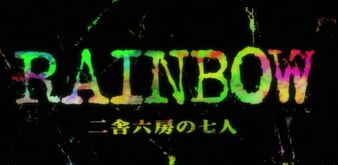 Welcome to the Rainbow Nisha Rokubō no Shichinin Wiki
Edit
The Anime Rainbow Nisha Rokubō no Shichinin
Rainbow - Nisha Rokubou no Shichinin is an anime about seven boys who are put into the same holding cell in the reformitory of Shio where they create a bond forged through pain, suffering, and death. It is all taking place in 1955 after the war. Each male comes from a different past but suffer the same fate, forced to do time in the reformitory.
Ad blocker interference detected!
Wikia is a free-to-use site that makes money from advertising. We have a modified experience for viewers using ad blockers

Wikia is not accessible if you've made further modifications. Remove the custom ad blocker rule(s) and the page will load as expected.